Through its ProPhilanthropy® initiative, Advancing Compassion Project enables donors and other contributors to evaluate, influence and selectively support innovative projects maximizing the impact of their contributions. Moving beyond charitable giving as a transactional process in which donors are asked to write checks to various causes, ProPhilanthropy presents a more transformational approach in which contributors are engaged in fostering solutions that proactively address problems rather than chronically managing them.
ACP and ProPhilanthropy represent a melding of venture philanthropy and charitable giving, and are at the forefront of a trend toward greater donor involvement and a focus on sustained impact. In Giving 2.0, a recently released book by Laura Arrillaga-Andreessen, chair of Stanford's Center on Philanthropy and Civil Society, the issue is framed perfectly.
Every day millions of ordinary people exhibit extraordinary generosity. Regardless of age, income, religion, and beliefs, we want to touch the lives of others. Yet philanthropy is often reactive – we write checks when natural disasters strike, we give to our schools and places of worship, or we support friends running a marathon for a cure. How can we transform these occasional acts of giving into consistent generosity that creates enduring impact? Giving 2.0 (Wiley, January 2012)
Advancing Compassion Project presents one answer to Arrillaga-Andreessen's question: a more proactive and strategic model of community-based giving. Promising programs are evaluated through in-depth interactions between ACP's contributors and advisors and charitable organizations. Ongoing or proposed projects need to meet several key criteria:
the project must represent a novel or improved approach that more effectively addresses problems through prevention or earlier intervention;
the program must be able to demonstrate the improvement in a way that does not require substantial new overhead or non-program expenses; and
the organization must be capable of translating project success into additional support as needed to make it a model for sustainable change.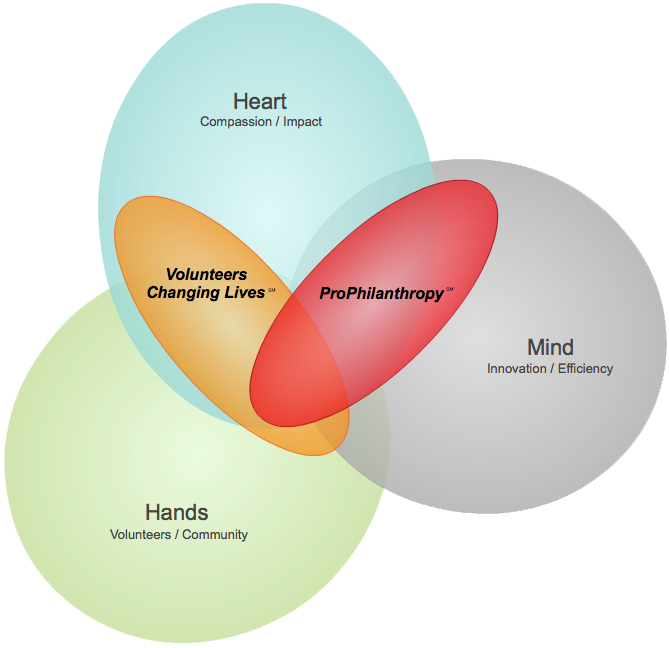 Promoting innovation within existing organizations allows ACP, which comprises volunteers and pro bono advisors, to operate without significant overhead. It also enables contributors to directly interact with programs, increasing awareness of needs and potential solutions, and facilitating support that goes beyond the financial. In particular, bringing together diverse people who share an interest in solving a problem can lead to additional contributions such as relevant experience or connections, potential access to grants, supplies or services, and other assets that help charitable organizations better accomplish their objectives.
Similarly, ACP enables donors to play a greater role in promoting change. Compared to event-based fundraising such as walks, runs and rides, ACP encourages participants to influence and assist projects rather than simply hearing about them. Like some church or civic groups, ACP addresses issues at a community level, but it focuses on novel solutions that allow supporters to maximize the value of their contributions and see their impact.
We hope you'll find a way to get involved with Advancing Compassion Project either as a donor or a volunteer – and join us in making a difference.